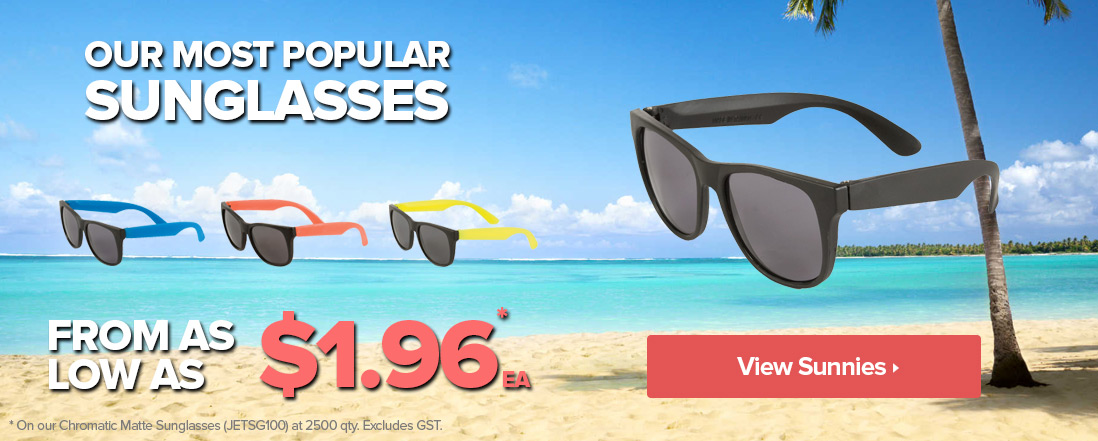 SunglassesOnly | Custom Branding on Fashionable Sunnies
Jump to Category:
SunglassesOnly brands your artwork on a diverse range of quality and fashionable sunglasses for a fraction of the cost you'd pay elsewhere. Leave your event with us, the sunglass experts.
Most Popular Sunglasses
Latest Sunglasses
No need to force your audience to adopt something new in order for your promotional campaign to get maximum exposure - Australian's already wear sunglasses all year round. Making an investment in some custom branded sunnies a wise decision in this country of ours.
Whether you're hosting an outdoor event where a pair of sunnies would be handy, putting together a summer goodies pack or looking to add some promotional sunglasses to your staff uniform, you'll find everything you need right here to see your custom sunglasses job through to completion.
Likewise, given that branded sunglasses are a promotional product that's worn, we've gone to great lengths to ensure our range is full of the latest fashion in sunglasses. You'll find a whole collection of wayfarers that have recently made quite a large resurgence in popular culture. As well as your standard wrap style sunnies to maximise sun protection and the always classic Aviator style.
Latest Articles from SunglassesOnly